Handling robot for the carrot industry
Replace heavy lifting by hand with a robot
Carrot grower in 't Zandt in North Limburg, sorts 12 to 15 tons of carrots per day. The washed and sorted carrots end up in crates that, when filled, weigh about 10 to 20 kilograms each. These crates are placed on a pallet by workers.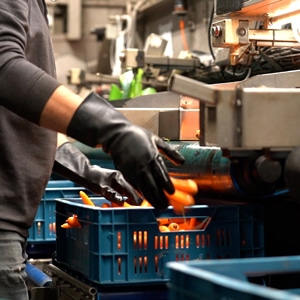 Assignment
The robot has to be able to handle 2 different types of crates (folding crates and fixed crates of various sizes) and to load 2 different types of pallets (Euro pallet (1,200×800 mm) and block pallet (1,200×1,000 mm)) with 8 to 14 layers. An installation area of 75m2 is available for the robot, so that the employees at the sorter can carry out their work unhindered.
The top layer of crates on a pallet have to be covered with a plastic sheet for freshness of the carrots. 550 crates have to be handled per hour. The exact number of crates on a pallet depends on the pallet type; 70 crates on a block pallet and 40 on a euro pallet. In addition, a 30 meter long transport system has to be also be realised.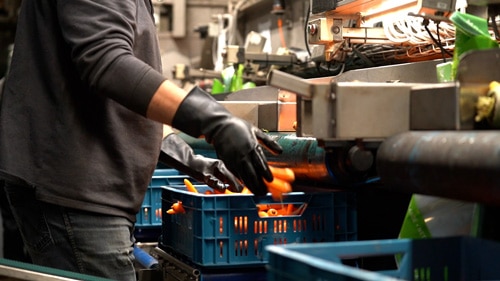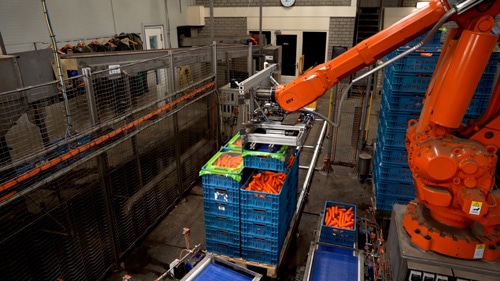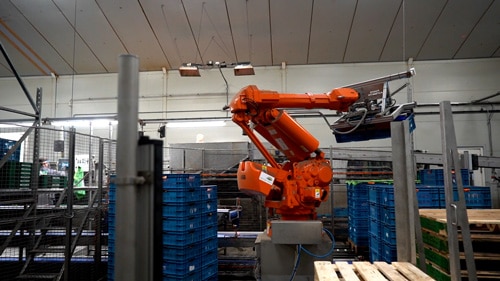 Custom robot head
We started designing a robot head with 4 grippers on our standard ABB robot. This head made it possible to stack the two different crate sizes on the two pallet variants. Picking up the crates from the inside was not possible because of the cling film that has to be stretched over the top layer of crates at the weighing point at the sorter.
By means of an integrated counter, the operator at the sorting station receives a signal when the last crates are filled. The operator then covers these crates with cover foil. The crates are picked up by the robot in pairs. Despite the high handling speed, they are not crushed.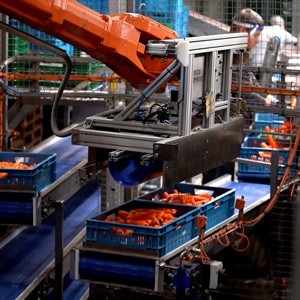 Pallet loading
The operator can enter the desired recipes and indicate which type of pallet has to be loaded on the touchscreen of the PLC. In addition, he indicates with which crates and which sorting should be made. An electromechanically driven transport system has been engineered and custom-made for this. The transport of the crates is done on conveyor belts. A chain conveyor has been manufactured for the pallets.
A-brand components from the extensive Elsto Drives & Controls range were used for both systems. As soon as the crates arrive at the end of the conveyor belt, built-in sensors detect which type of crate is passing and send a signal to the PLC. The robot is controlled via the PLC and the line control where the relevant crate has to be placed.