Labor power is hard to find, expensive and unreliable
Not a nice message for employees. Daily reality for entrepreneurs. Of course employees are indispensable within an organization, but especially in a production and handling environment, where many hands are needed. Products must be moved, checked, collected, packed and stacked quickly and safely. In addition, employees are bound by the Working Conditions Act with regard to hours, safety, maximum lifting weight and repetitive work.
For this reason, Elsto Smart Solutions develops innovative automation solutions with a high reliability that enable unmanned work and better performance. Engineering, mechanical engineering, robotics and system integration in one hand. Smart isn't it?
Wat does Elsto Smart Solutions do?
Smart solutions that make money
Elsto Smart Solutions designs, builds and installs fully customized lifting, stacking and transport systems and robotic solutions for various production and handling industries.
Our objective is: to achieve higher efficiency and reliability, a better overall performance and lower production process costs.
This results in more profit for your company and a significant reduction in TCO. Truly a Smart Solution. Hence our name!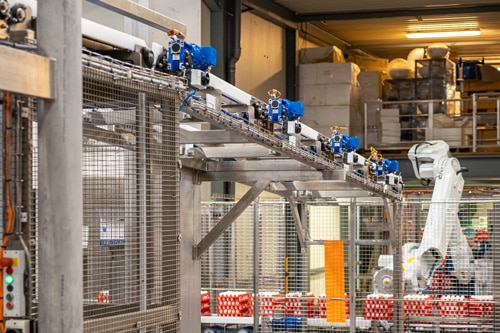 Think first, act later
Production lines that work faster, longer, more efficiently and more accurately. No unwanted downtime or delay due to illness, human error or legal work restrictions. Even when manual input options remain.
These are the issues we deal with on a daily basis and to which our systems are the answer.
It starts with understanding the question. Gaining insight into the production and handling process and mapping the wishes and expected performance of the automation solution to be developed. Because there is no standard solution for a specific question.
We measure first. Then we gain knowledge. Then we start engineering.
We fit and measure. What are the possibilities? What fits within the available space? What yields the most return? Every space, process and objective is unique, and so are our solutions.
That is our challenge. Finding a suitable solution for our clients. If possible, we deliver even more than expected, because you don't expect that!
Modular. flexible. Process specific.
It is a nice fact that the ever-evolving technology makes our systems, and also us, increasingly smarter and more affordable. The introduction and application of robotics, control technology and signal communication is therefore no longer something of the future, but becoming really feasible for more and more companies.
As an experienced system integrator, we know how to tie all strings together perfectly so we can offer a solution that fits seamlessly into the existing process.
In many cases without hindering the daily production processes. After all, downtime costs money. We have the option of taking care of placement and installation outside production hours. Because customer service is not a department. It's an institution!
Just turn it on…
It sounds like a simple command, but there is a lot involved. When the "on-button" is eventually switched, all should really work. Then our engineering knowledge, mechanical engineering experience, robotics expertise and system integration knowledge suddenly come to life. Of course, we may still need to dot the i's and cross the t's. We also take plenty of time for that after the first start-up. On the cases page you can see our systems at work.
These are just a few examples. Every system we have developed, built and installed has been specifically engineered. A different question, production process, environment and industry will require a different solution. These examples show how we work, how we think, how we build and how it works in the end. Because it will work, that's a guarantee we dare to give. Always!
The synergy of the Stokvis Group
Elsto Smart Solutions is – together with 15 other companies – part of the Stokvis Group. Around 400 employees at 12 locations are involved on a daily basis with the engineering, production, services and sales of machine building, drives, controls, lifts, winches, vehicle technology and drinking water purification. It goes without saying that we make use of each other's expertise where necessary.
This synergy and collaboration makes us a reliable, strong partner and a valuable knowledge base for all kinds of industries. That is why we are also able to develop real total solutions. We don't think from a to b, but from a to z. A system must have value and yield for years. Not just from now until next year.